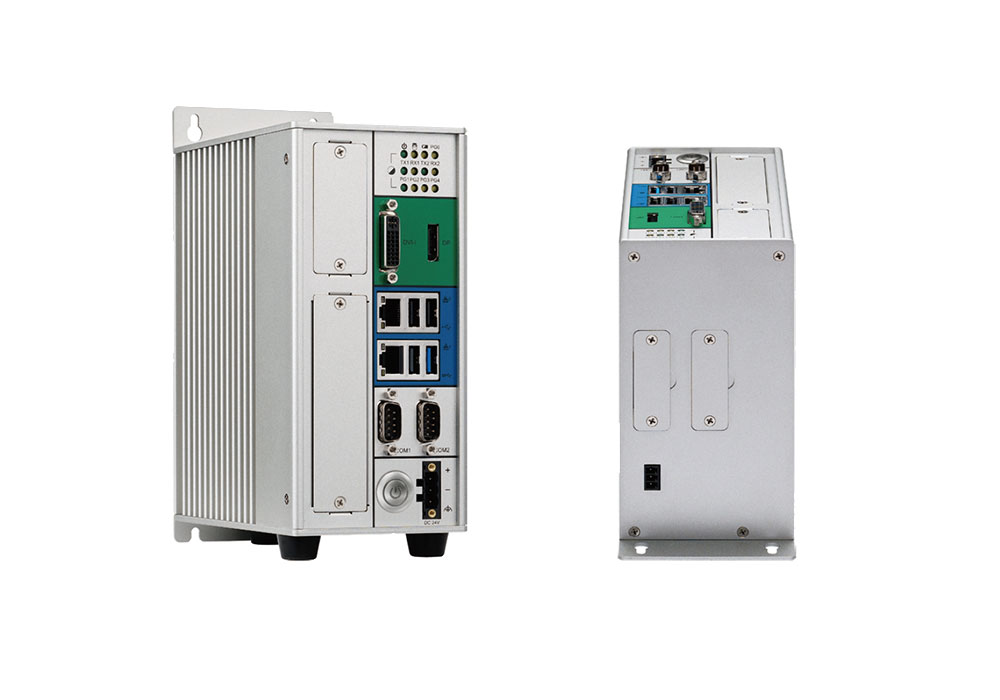 产品简介
功能强劲的新一代 Intel® Celeron® 处理器 J1900 (原代号为" Bay Trail-D ")。NET 200-ECM 为机器自动化提供基于智能 PC 的 EtherCAT 控制器。 它集成了新汉的 EtherCAT Master,NexECM,可在高达 250μs 的周期时间内进行实时通信。NET 200-ECM 还提供用于 CiA 402 配置文件和内置 EtherCAT API 函数库,以缩短自动化用户的开发时间。
除了 EtherCAT 通信,NET 200-ECM 具有高集成度,具有两个可选的 mini-PCIe(可选 GbE LAN,Wi-Fi,3.5G / 4G LTE 或其他现场总线设备)模块和两个 COM 端口,这使得它成为一个灵活的控制器。NET 200-ECM 是您的 EtherCAT 控制系统的理想控制器。
产品特点
集成 NexECM 的 EtherCAT 技术, EtherCAT Master Class A
EtherCAT 通讯周期可达 250 μs
支持高等级 API 为 CiA 402 简介
板载 Intel® Celeron® J1900 四核 2.0GHz 处理器
双独立显示:DP,DVI-I
3 x USB 2.0 & 1 x USB 3.0
2 x RS232/422/485
2 x Mini-PCIe 接口为可选 Wi-Fi/3.5G/4G LTE/现场总线模块
操作温度: -5 ~ 55 摄氏度
订单资讯
NET 200 (P/N: A0J10020003X0)
Front-access EtherCAT controller
Image Selection
NET 200-ECM WES7 32-bit & RTX2012 (P/N:88J10020000X0)
NET 200-ECM WES7 32-bit & RTX2016 (P/N:88J10020001X0)
NET 200-ECM WES7 64-bit & RTX2014 (P/N:88J10020002X0)
NET 200-ECM WES7 64-bit & RTX64 3.0 (P/N:88J10020003X0)
24V, 60W AC/DC power adapter w/o power cord
(P/N: 7400060024X00)
ETHERCAT SUPPORT TABLE
| Feature Name | Short Description | NexECMRtx |
| --- | --- | --- |
| Basic Features | | |
| Service Commands | Support of all commands | V |
| IRQ Field in Datagram | Use IRQ information from Slave in datagram header | V |
| Slaves with Device Emulation | Support Slaves with and without application controller | V |
| EtherCAT State Machine | Support of ESM special behavior | V |
| Error Handling | Checking of network or slave errors, e.g. working counter | V |
| Process Data Exchange | | |
| Cyclic PDO | Cyclic process data exchange | V |
| Network Configuration | | |
| Reading ENI | Network configuration taken from ENI file | V |
| Compare Network Configuration | Compare configured and existing network configuration during boot-up | V |
| Explicit Device Identification | Identification used for hot connect and prevention against cable swapping | V |
| Station Alias Addressing | Support configured station alias in slave, i.e. enable 2nd Address and use it | V |
| Access to EEPROM | Support routines to access EEPROM via ESC register | V |
| Mailbox Support | | |
| Support Mailbox | Main functionality for mailbox transfer | V |
| Mailbox polling | Polling mailbox state in slaves | V |
| CAN Application Layer Over EtherCAT (CoE) | | |
| SDO Up/Download | Normal and expedited transfer | V |
| Complete Access | Transfer the entire object (with all sub-indices) at once | V |
| Distributed Clocks | | |
| DC | Support of distributed clock | V |
产品规格
ETHERCAT 主站
Guaranteed precision – set timer periods down to 1 microsecond; IST latencies of less the 10 microseconds.
Separation from Windows – Windows processes cannot interfere with your real-time applications.
Scalability – one scheduler is used across all real-time processors. SMP-aware scheduler utilizes both priority-driven and pre-emptive algorithms to ensure critical thread ontext switches. Yields to threads of high priority occur in the sub-microsecond range.
实时应用程序和环境控制
Slave module no.: up to 64
Cycle time: up to 250μs
Synchronization error: ±50ns
Support CiA 402 standard protocol
CPU
Onboard Intel® Celeron® processor J1900 Quad Cord 2.0GHz
内存
4GB RAM (2 x DDR3L)
显示
Dual independent display — DVI-I and DP
前面板 I/O
ATX power on/off switch
LEDs for HDD LED, batty LEDs, power LED, COM port TX/RX,5 x Programmable GPO LEDs
1 x External SD card
1 x SIM card holder
1 x EtherCAT port, 1 x Intel® I210IT GbE LAN port
1 x DP display output
1 x DVI-I display output
1 x USB 3.0 (900mA per each)
3 x USB 2.0 (500mA per each)
2 x RS232/422/485 support Auto Flow Control — Jumper-free setting on RS232/422/485 — Support 2.5KV isolation protection on COM1
1 x 3-pic DC input, typical
储存设备
1 x 2.5″ SSD/HDD (SATA 2.0) –front accessible
1 x SD card (data storage only)
1 x mSATA
扩展槽
2 x mini-PCIe socket for optional Wi-Fi/3.5G/4G LTE/Fieldbus modules
电源
Typical 24V DC input with ±20% range
1 x Optional 24V, 60W power adapter
尺寸
85mm (W) x 157mm (D) x 214mm (H)
结构
Aluminum and metal chassis with fanless design
工作环境
Operating temperature: Ambient with air flow: -5°C to 55°C (according to IEC60068-2-1, IEC60068-2-2, IEC60068-2-14)
Storage temperature: -20°C to 80°C
Relative humidity: 10% to 95% (non-condensing)
Shock protection: — SSD: 20G, half sine, 11ms, IEC60068-2-27 — CFast: 50G, half sine, 11ms, IEC60068-2-27
Vibration protection w/ CFast & SSD condition: — Random: 2Grms @ 5~500Hz, IEC60068-2-64 — Sinusoidal: 2Grms @ 5~500Hz, IEC60068-2-6
认证
预装软件包
Operating system: Windows Embedded Standard 7
Real-time extension: — RTX2012/RTX2016 for 32-bit OS — RTX2014/RTX64 3.0 for 64-bit OS
EtherCAT Master: NexECM
EtherCAT configurator
如果本文有错误请向我们反馈,我们很珍惜您的意见或建议。